Overview
Have you noticed that your pants always fit a little weird or that you are always leaning to one leg when standing for awhile? If so, one of your legs may be longer than the other. This is known as a leg length discrepancy. There are two main reasons for a leg length discrepancy. One reason is that one of your leg
bones
(
tibia
or femur) is longer on one side. This is referred to as a true leg length discrepancy because the actual length of your
bones
is different. A second reason is that your pelvic bone may be rotated on one side making it appear that one leg is longer than the other. This is referred to as an apparent leg length discrepancy because the actual length of your leg
bones
is not different. In order to figure out if you have a true or apparent leg length discrepancy, your doctor may take an
x-ray
to measure the length of your leg
bones
or a simple measurement from your belly button to your ankle can help determine the reason. Over time, the leg length difference can cause stress on your low back, hips and
knees
, which may cause pain or discomfort.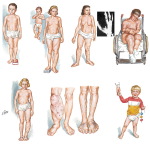 Causes
Limb-length conditions can result from congenital disorders of the
bones
, muscles or joints, disuse or overuse of the
bones
, muscles or joints caused by illness or disease, diseases, such as bone cancer, Issues of the spine, shoulder or hip, traumatic injuries, such as severe fractures that damage growth plates.
Symptoms
The effects vary from patient to patient, depending on the cause of the discrepancy and the magnitude of the difference. Differences of 3 1/2 to 4 percent of the total length of the lower extremity (4 cm or 1 2/3 inches in an average adult), including the thigh, lower leg and foot, may cause noticeable abnormalities while walking and require more effort to walk. Differences between the lengths of the upper extremities cause few problems unless the difference is so great that it becomes difficult to hold objects or perform chores with both hands. You and your physician can decide what is right for you after discussing the causes, treatment options and risks and benefits of limb lengthening, including no treatment at all. Although an LLD may be detected on a screening examination for curvature of the spine (scoliosis), LLD does not cause scoliosis. There is controversy about the effect of LLD on the spine. Some studies indicate that people with an LLD have a greater incidence of low back pain and an increased susceptibility to injuries, but other studies refute this relationship.
Diagnosis
Infants, children or adolescents suspected of having a limb-length condition should receive an evaluation at the first sign of difficulty in using their arms or legs. In many cases, signs are subtle and only noticeable in certain situations, such as when buying clothing or playing sports. Proper initial assessments by qualified pediatric orthopedic providers can reduce the likelihood of long-term complications and increase the likelihood that less invasive management will be effective. In most cases, very mild limb length discrepancies require no formal treatment at all.
Non Surgical Treatment
People with uneven leg lengths may be more prone to pain in their back, hips, and
knees
; uneven gait; and lower leg and foot problems. Due to its risks, surgery is typically not recommended unless the difference is greater than one inch. In cases where the difference is less than one inch, providing the same support for both feet is the most effective. This can be achieved by getting custom-fitted orthotics for both feet. Orthotics are inserts that you wear in the shoes. Your chiropractor will request to measure your feet and possibly your legs. You can step on a device that will take the measurements or you might have a plaster cast of your feet taken. Orthotics are typically made from plastic and leather, and function biomechanically with your foot. If a leg length discrepancy is not properly corrected with orthotics, your chiropractor may recommend a heel lift, also known as a shoe lift. You simply place it in the back of your shoe along with the orthotic. Typically, you will only wear the heel lift in one shoe to assist the shorter leg.
leg length discrepancy symptoms
Surgical Treatment
In growing children, legs can be made equal or nearly equal in length with a relatively simple surgical procedure. This procedure slows down the growth of the longer leg at one or two growth sites. Your physician can tell you how much equalization can be gained by this procedure. The procedure is performed under
X-ray
control through very small incisions in the
knee
area. This procedure will not cause an immediate correction in length. Instead, the limb length discrepancy will gradually decrease as the opposite extremity continues to grow and "catch up." Timing of the procedure is critical. The goal is to reach equal leg length by the time growth normally ends. This is usually in the mid-to-late teenage years. Disadvantages of this option include the
possibility
of slight over-correction or under-correction of the limb length discrepancy. In addition, the patient's adult height will be less than if the shorter leg had been lengthened. Correction of significant limb length discrepancy by this method may make a patient's body look slightly disproportionate because of the shorter leg. In some cases the longer leg can be shortened, but a major shortening may weaken the muscles of the leg. In the thighbone (femur), a maximum of 3 inches can be shortened. In the shinbone, a maximum of 2 inches can be shortened.